Riding lawn mowers are versatile machines that can do far more than just cut grass. Most can be upgraded with attachments that allow its owners to cultivate gardens, plow yards, and even clear snow. And many riding lawn mower owners can attest to how much fun they are to drive.
When it comes time to do lawn maintenance it is important to own the right equipment for the job. Here are 5 crucial attachments that every riding lawn mower owner should have at their disposal.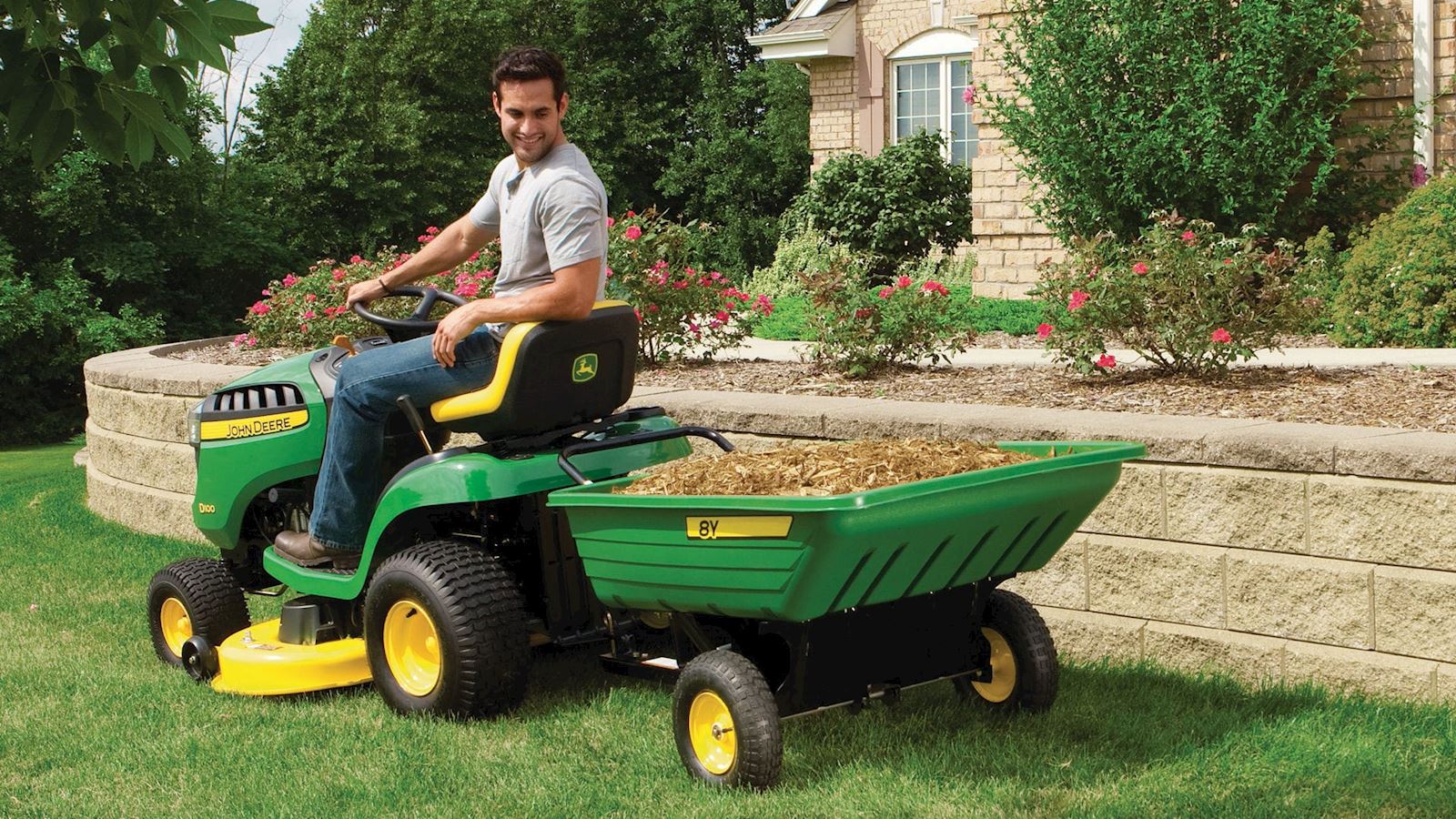 1. Thatch Remover
In most lawns, there is a build-up of dead roots, crowns, and rhizomes around the base of the blades of grass. The build-up referred to as "thatch" is unavoidable as it occurs naturally. Thatch can be very damaging to lawns if allowed to accumulate for extended periods of time. One attachment all riding lawn mowers should have is a thatch remover.
A thatch remover attachment can also be utilized in the summer to prepare the soil for seeding or to aerate the lawn. Prepping the ground before seeding will open the soil allowing fresh water and air to better penetrate the lawn.
2. Front Scoop Attachment
One recurring task in lawn maintenance is the need to move yard materials from one location to another. Whether sand, dirt, rock, or mulch most large property owners know how backbreaking the work can become. A front scoop allows one to lift, move and dump an excess of 100 pounds of lawn materials with ease.
And it really comes in handy in areas where it snows. Once one begins to use a front scoop attachment to move around snow or other materials from one side of the yard to another, the hand-held scoop will quickly become a thing of the past.
3. Double Bag Collector
One collection bag is nice…two bags are twice as nice. The advantage of a two-collection bag system is that they are easier to dump and take up less space when storing. The collection bins usually connect quickly and easily. Plus, there are built-in storage bin handles for effortless disposal in addition to more pickup capacity.
Double bag systems use the same polyester mesh as the single-bag collector. This material is designed for the maximum amount of airflow resulting in fuller bags. And many riding lawn mowers have convenient bag-full indicators.
4. Tow-Behind Spreader
Out of all the tasks in lawn care seeding and fertilizing are the most vital. A tow-behind spreader can decrease the time it takes to seed or fertilizer as well as help distribute the seed more evenly across the lawn. And most spreaders have nice large tires so they are set higher above the soil which allows for better spreading.
There are many different sizes of spreader attachments available. Some have a capacity of 85 pounds of seed for small jobs while others can hold as much as 185 pounds for larger yards. A good spreader can increase the positive results of seeding and decrease the amount of stress one might put on the body when fertilizing or seeding a yard by hand.
5. Swivel Dump Cart
A swivel dump cart is another attachment that every riding lawn mower owner should have in the shed. Whether hauling logs, soil, or stone bricks a swivel dump cart is designed to effortlessly transport both light items and heavy items. Most carts have a load capacity of well over 1,000 pounds. And the swivel function can make a project go faster and any cleanup effort much easier.
These carts are also great for non-law-related projects. They can help tidy up a large yard, clean up debris from a storm, or carry the kids' sporting equipment into and out of storage.
Whether prepping an area for gardening or doing routine maintenance around the yard, these front-mounted and rear-mounted attachments are the most efficient way to get the job done.